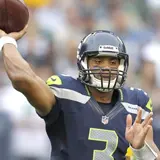 Week three of the 2013 NFL football preseason schedule marches forward on Friday night as the currently undefeated and impressive Seattle Seahawks head east to take on the Green Bay Packers at Lambeau Field with a start time of 8pm EST / 5pm PST. The game will be aired nationally on TV on CBS, and live online streaming instructions can be found below.
The Seahawks waltzed into Denver last weekend in what some consider to be a preview of the Super Bowl in early 2014. Instead of a closely fought game between two top teams, Seattle mopped the floor with Peyton Manning and the Broncos and left the mile high city 40-10 victors. They forced turnovers, made big plays, and thoroughly outplayed the Broncos on their turf.
Any concerns that Russell Wilson's rookie campaign were a fluke can be put to rest. The phenom quarterback is already in mid-season form after playing the full first half against the Broncos and completing 8 of 12 passes for a solid 127 yards and a pair of touchdown passes. The 49ers may be the favorite in the West after their Super Bowl appearance, but look out for the Seahawks putting up some big numbers and wins in bunches.
The Packers rebounded after a week one shutout loss at the hands of the Cardinals and beat the Rams 19-7. Touchdown pass master Aaron Rodgers didn't throw one during the game, but he'll take a victory over personal stats any game, even if its the preseason. That said, I would expect Rodgers to be aiming for the end zone against the Seahawks.
Regardless of Rodgers numbers, the Packers are down their top two wide receivers and are still playing good ball. Jordy Nelson is out the entire preseason following surgery on his knee, while Randall Cobb continues to nurse a biceps injury. Look for Jermichael Finley to get plenty of touches tonight playing with the first team.
It's hard to pick against the Seahawks right now the way they are playing, so I won't and expect them to win handily yet again.
Tonight's Friday Night Football NFL preseason game between the Seattle Seahawks and the Green Bay Packers is televised in high definition on CBS. Unfortunately CBS Sports doesn't offer a free live online streaming option. However, the NFL is still offering their Preseason package for $14.99 here that offers live online streaming to all the preseason games and will be accessible through mid-September (be sure to read the fine print for restrictions).