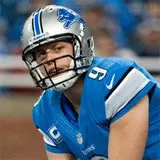 Tonight's ESPN NFL Monday Night Football game sees NFC North divisional rivals seeking a victory for arguably different reasons. The 4-1 Chicago Bears aim to extend their perfect record at home and stay atop the division by a comfortable margin. The 2-3 Detroit Lions, meanwhile, are looking to climb out of the cellar and reach .500, while also trying to avoid falling further behind the Bears. Free online live streaming links for tonight's Monday Night Football game can be found at the bottom of this post.
The Lions narrowly defeated the Philadelphia Eagles last week by a 26-23 margin in overtime. They committed an extremely high 16 penalties, yet still managed to pull out the win behind Matthew Stafford's 311 yards of passing and a touchdown. It will be important for Stafford to continue improving against the Bears considering Chicago has owned Detroit in winning seven of the last eight games in which the teams have squared off against one another.
Stafford will be staring down a Bears defense that has picked off 13 passes already this season, nearly 3 a game, and several have been returned for touchdowns. Teammates Lance Briggs and Charles Tillman set a record in each returning a pick for a score in consecutive weeks.
The difference in tonight's game may fall on Bears quarterback Jay Cutler. He has feasted on the Lions secondary in his career by tossing 10 touchdowns versus only one interception. With the Lions notching their first two inceptions of the season just last week, Cutler has the cards in front of him to put some impressive numbers and guide his team to victory.
In the last Bears/Lions game on November 13, 2011, Stafford lost his cool and pulled the helmet off D.J. Moore after Tim Jennings' picked off a pass and returned it the distance. There is no love between these two squads which could equate into a penalty-filled primetime game on Monday night.
You can watch tonight's NFL Monday Night Football game featuring the Chicago Bears and Detroit Lions online via a live streaming option at ESPN.com. An alternative free online live stream option is available here for those of you with installed and running anti-virus software to protect against questionable advertisements. The kick off for tonight's NFC North match gets underway on ESPN at 8:30pm EST/5:30 PST.