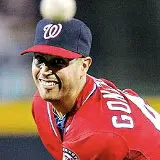 The St. Louis Cardinals host the Washington Nationals today in the first game of MLB's 2012 National League Divisional Series that will be televised on TBS. The Cardinals come in having just beaten the Atlanta Braves in a one-game wild card elimination that ended in controversy after an umpire called the infield fly rule on a missed fly ball that ended up in the outfield. Free live online stream options are further down in this post.
When the Cardinals began their playoff run last year, starter Adam Wainwright had to sit and watch the wild card winners make an improbable run to a World Series title due to injury. This year he's back and the number one starter, ready to begin what could be another magical run for an extremely strong team despite slugger Albert Pujols departing for the American League in the last off-season.
Carpenter will be up against 21-game winner Gio Gonzalez who was an off-season acquisition from the Oakland Athletics. The Nats and Cardinals faced each other only a week ago with St. Louis taking two of three including a 12-2 victory by today's starter Wainwright in the opening game.
If the Cardinals win today then all talk will turn toward the absence of Stephen Strasburg has their ace. Strasburg was shut down last month by Nats manager Davey Johnson after undergoing elbow surgery in September 2010. The Nationals brass would rather protect the future of their franchise player than gamble his long-term health early in his career.
It will be impossible to shake the ghost of Strasburg and inevitable "what ifs" should the Cardinals take this series from the Nationals.
You can watch today's MLB NLDS game between the Washington Nationals and St. Louis Cardinals online with alternate camera angles by subscribing to Postseason.tv. An alternate free live stream option is available here.
Look for Gio Gonzalez to give the Cardinals fits and for the Nationals to open up their 2012 postseason run with a win.